Torbole and Garda Trentino will once again be at the centre of international windsurfing with two consecutive top-level events organised by Circolo Surf Torbole in collaboration with AICW (Italian Windsurfing Classes Association) and IWA (International Windsurfing Association), as well as the Italian Sailing Federation and the Garda Trentino Sailing Consortium.
From 17 to 22 June (17 opening ceremony and 18 first regattas) the Formula Foil World Championship is scheduled, which will feature great champions of the specialty such as the European champion of the iQFoil Olympic class Nicolas Goyard and the same opponent as a month ago, Dutchman Luuc Van Opzeeland, a member of Circolo Surf Torbole, who came third at the European Championship after being in the lead for the entire championship.
The occasion is a great one for many youngsters, who will be able to compete with the champions, first and foremost the boys and girls of the Circolo Surf Torbole, which, with a team of nine athletes, will be taking part in the rainbow event full of enthusiasm and with good podium chances in the junior (under 17) and youth (under 20) categories, as well as the women's. Among them are Valentino Blewett, Mathias Bortolotti, Jacopo Gavioli, Anna Polettini, Sofia Renna, Mattia Saoncella, Rocco Sotomayor, Tommaso Strazieri, and Leonardo Tomasini, athletes who are growing with coach Dario Pasta and who have already achieved significant results in the Techno 293 class in recent years.
Among the most represented nations besides Italy, Spain, Poland, Latvia, Switzerland.
Just one day after the proclamation of the Formula Foil world champions, it will be the turn of the historic RRD One Hour Classic, a one-hour regatta between two buoys in the crosswind between one bank and the other (east and west) of Garda Trentino, which since 1989 has thrilled the windsurfers of yesterday and the new generations, who challenge their endurance skills, or – in the case of the champions – try to break the record with the greatest number of sides sailed in an hour.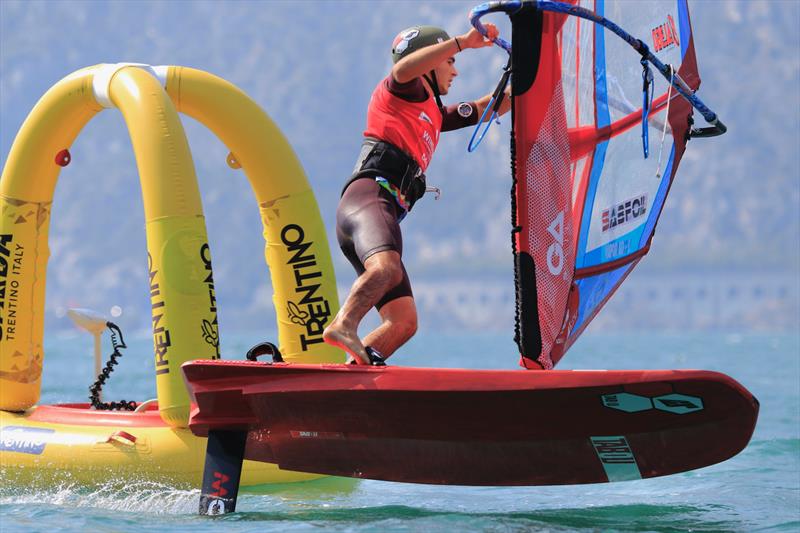 Formula Windsurfing Foil Worlds – photo © Elena Giolai
This year promises to be an exciting challenge to say the least, since the recordman and Circolo Surf Torbole athlete Bruno Martini will challenge the first two finishers of the 'Defi Wind', a regatta with 1,200 riders on the same line, with a rabbit start like the One Hour (starting when a dinghy crosses the line). In fact, both the European iQFoil champion Nicolas Goyard, winner at Defi Wind, and the evergreen Antoine Albeau, second and old acquaintance of the RRD One Hour Classic, which just a few days before the opening of entries went "sold out".
Ten days of great windsurfing are therefore expected at the Circolo Surf Torbole, with old and new generations facing each other and with the wind of Garda Trentino that will have to give its best to guarantee challenges of a high technical and sporting level.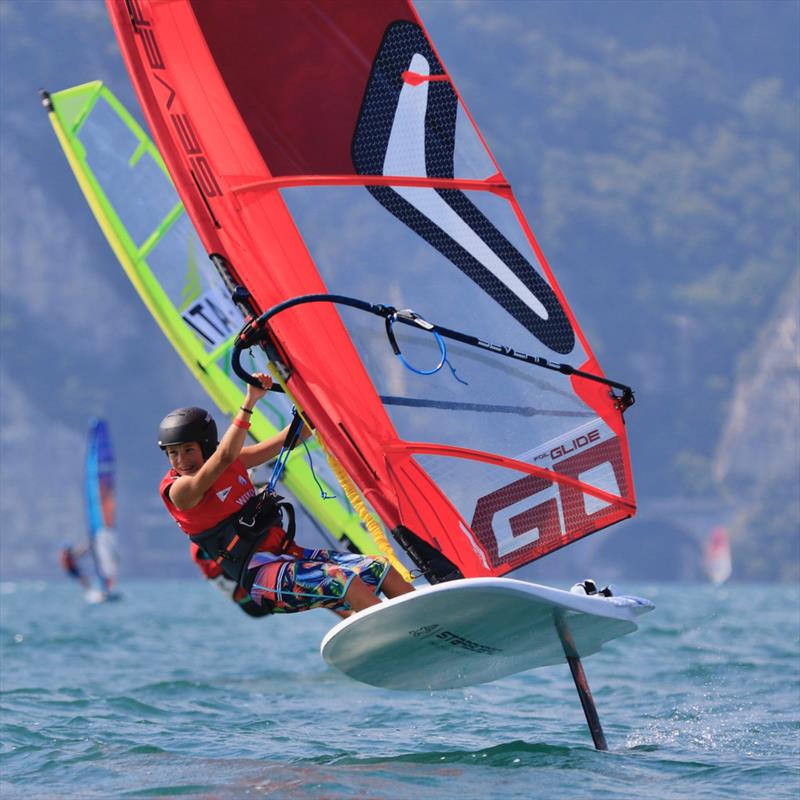 Formula Windsurfing Foil Worlds – photo © Elena Giolai