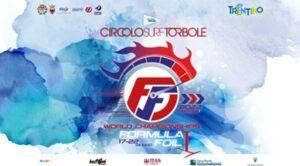 DAY 2, sunday June 19th 
Among the seniors always the two Goyard brothers in the first two positions
Manolo Modena leader youth, Sofia Renna women and Leonardo Tomasini juniors
Second day of the Formula Foil World Championship: after 12 out of 25 races the leaders remain unchanged
 Nago-Torbole (Lake Garda, Italy) – Another fantastic day in Torbole, upper Lake Garda, Trentino shore, for the Formula Foil World Championship organised by the Circolo Surf Torbole, IWA (International Windsurfing Association) and the Italian Sailing Federation, which as always allows high-level regattas to be held with Race Officials and an international jury. Strong winds and sunshine again kept the athletes busy in the two sessions of three races each with a break of about an hour between one and the other, bringing the total number of races out of the 25 scheduled to 12. The day was particularly exciting and spectacular, due to some starts given with a mandatory left tack, which saw the fleet race towards the Ponale rocks. Even the rounding of the buoys was more tightly contested with close engagements, which were somewhat lacking on the first day. After two days and 12 races, the leaders remain unchanged in the various categories, suggesting no big news for the days to come: among the seniors there is a family battle between the two French brothers Nicolas (European Champion of the new iQFoil Olympic class) and Thomas, silver medallist in Tokyo in the previous RS:X Olympic class: the former is leading with 7 points ahead of Thomas and 8 partial victories, compared to his brother's 3. The Dutchman Luuc Van Opzeeland has nibbled a few points off the Swiss Elia Colombo and moved into third place.
Always in the top ten overall seniors the athletes of Circolo Surf Torbole who are competing in the Youth category: Manolo Modena maintains the lead in the under 20 classification with an excellent sixth overall (two fourths in regattas 7 and 8), followed by team mate Jacopo Gavioli, second youth; always third in his category the Slovakian Kubin. Also competing were the masters and grand masters with Spain's Del Cerro and Poland's Dittrich first and second respectively.
Sofia Renna is also leading the women's category, chased by the other Italian Linda Oprandi; third the Czech Slatvova. But the surprise is to see the juniors racing: among them, also 12 year old boys and girls, who in just a few outings have learnt to fly with the foil board and in these first two days have tackled the strong wind of Garda Trentino with surprising ease. Circolo Surf Torbole's holder Leonardo Tomasini, fifteen years old but with an 18 years old tonnage, is dominating and remains focused on improving his speed and trim from test to test: so far all first partials for him, which allows him to be in the lead with 9 points ahead of his team mates Saoncella and Blewett.
Among the girls first Anna Polettini.
Monday will continue with the same programme, again from 1 pm.
VIDEO: https://youtu.be/ppXLoDmFurg
Photo gallery: https://flic.kr/s/aHBqjzUMU5
Group A rankings: https://foilworlds2022.formulawindsurfing.org/results
Group B rankings: https://foilworlds2022.formulawindsurfing.org/results/group-b
by Elena Giolai