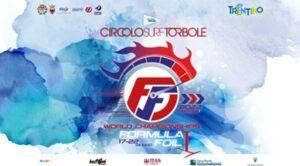 DAY 3, monday June 20th 
In the afternoon the wind was too strong (up to 30 knots) forcing the day to be interrupted with 3 races out of the 6 scheduled
Leadership still unchanged in all categories
 Nago-Torbole (Lake Garda, Italy) – The windy resources of Garda Trentino seem to never run out in this week in which the Formula Foil World Championship is being held in Torbole, on the contrary, they are increasing day by day: after the first session of three "back to back" races that started regularly at 1:00 pm, after the usual break, the wind – already strong since the morning – increased together with the wave, short and high. Within an hour, just before the start of the second round of scheduled races, the conditions became difficult to ensure safe racing for all categories and the FIV Race Committee first suspended the races, then stopped them permanently in view of the constantly increasing wind. The Championship, after three days of racing and 15 regattas, seems to be delineated in the podium area in almost all categories: among the seniors, a decidedly good day for Olympic silver medallist Thomas Goyard, who placed three firsts ahead of his brother Nicolas, who, after a seventh, promptly recovered with two seconds, leaving behind the fight for the third step of the podium between Swiss Elia Colombo and Dutchman Luuc Van Opzeeland, who after the 15 races held are tied in terms of points. The performance and ranking for the first two youths, represented by Circolo Surf Torbole's Manolo Modena and Jacopo Gavioli, remained unchanged: even today they maintained excellent positions in the overall ranking, confirming not only their leadership in the Youth category, but also their sixth and seventh place overall. Still third was Slovakian Robert Kubin. A bad day at the start for Sofia Renna, who was disqualified in the first two races, but – being able to discard them – maintains the lead in the women's classification ahead of the other Italian Linda Oprandi.
The youngest juniors did well, who in the third and final race of the day struggled to control the board as the wind continued to increase. The Circolo Surf Torbole athlete Leonardo Tomasini's races were without history, and he is increasingly in the virtual top ten in the senior category as well, starting a few minutes earlier: speed and perfect starts are launching him ever closer to the category title, considering that he has accumulated further advantage over his adversaries, who are currently 12 and 24 points behind respectively (in the order of the albeit good Mattia Saoncella and Valentino Blewett). Six points between them are Anna Polettini and Medea Falcioni.
On Tuesday, the penultimate day of racing, the start is brought forward to 11:30 a.m. considering the fact that it has been four days since the south wind started blowing very early: at Circolo Surf Torbole, organiser in collaboration with Federazione Italiana Vela, IWA and Consorzio Garda Trentino Vela, preparations are underway for another long day of racing in a World Championship that has so far had excellent wind conditions (even too much) and sunshine.
Photo gallery: https://flic.kr/s/aHBqjzUMU5
Group A rankings: https://foilworlds2022.formulawindsurfing.org/results
Group B rankings: https://foilworlds2022.formulawindsurfing.org/results/group-b
by Elena Giolai